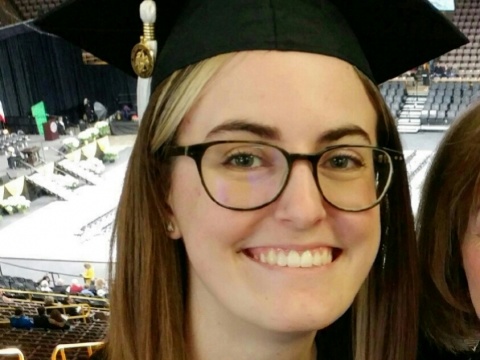 The University of Iowa's online Bachelor of Liberal Studies program was a perfect fit for where Emily Kedzie found herself a few years ago.
Emily's journey started in 2014 when she graduated from her high school just outside Chicago, IL. Like so many recent high school graduates, Emily decided to attend her local community college after graduation. Without a specific career in mind, going to the community college for two years allowed Emily to take a wide range of courses exploring different career paths.  As a result, she earned two associate degrees.
After community college, Emily transferred to an out-of-state university. Due to several factors, her time at this university did not go as hoped.  
"I came home feeling quite unaccomplished, no degree and in debt," Emily admits, "I didn't feel up to going away to school again after that experience.  I felt totally lost and unsure of where to go or what to do next."
But things changed when the University of Iowa's online Bachelor of Liberal Studies program came into Emily's life. "My dad found out about the program and this seemed like the light at the end of the tunnel."
After applying, Emily selected a specific track for her Bachelor of Liberal Studies degree.   "I chose the Global Studies track because it embraced my eagerness to learn about many different topics. I was able to take a wide range of interesting courses, with professors who were always available to help".
Soon after Emily first applied, she met her BLS Advisor Nancy Romine, "It was clear from that point on that Nancy really wanted me to succeed!"
Navigating an online program can be intimidating for many people, but Emily found the support she needed. 
"Each semester when signing up for new courses, Nancy took the time to explain how much work each course would require (both online and classwork off the computer) and that was reassuring."
Being a distance student was not a problem for Emily, "I found many students in my online classes were also distance students from across the country and even some out of the country! The online BLS program worked especially well for me because it was affordable, and I was able to work a part-time job at the same time and pay as I went."
Once Emily found her groove and it was clear what needed to be done to graduate, Emily was able to graduate within two years, receiving her bachelor's degree in December 2019.
"I am very happy with my experience at the University of Iowa, and proud to have a degree from a notable institution. Although my time at IOWA was not on campus, I felt every bit a Hawkeye and am proud to say that I am one. I hope anyone going through a similar experience that I had considers becoming a part of the Hawkeye family!"