Primary Test Center:
North Campus Test Center (NCTC)
W216 Chemistry Building
230 N Madison Street, Iowa City, IA 52242 
319-467-4628; doe-proctor@uiowa.edu 
Description: 
All 48 Test Center computer stations provide a reduced distraction environment approved by Student Disability Services. We are also an approved location for proctoring exams from other universities, licensure and certification exams (Scantron), and placement exams (CLEP & DSST).
Proctoring Hours:
Monday - Thursday 9:00 a.m. to 9:00 p.m. & Friday 9:00 a.m. to 4:00 p.m. Closed on designated University of Iowa holidays.
Extended Hours During Finals Week:
During finals week, the Test Center will be open Monday - Thursday 8:00 a.m. to 10:00 p.m. & Friday 9:00 a.m. to 5:00 p.m.
Summer 2024 Proctoring Hours:
More details will be available during Spring 2024.
Parking Options:
Parking is available in the Iowa Memorial Union Parking Ramp and the North Campus Parking Ramp. 
Additional Information
To schedule a University of Iowa exam:
To schedule a non-University of Iowa exam: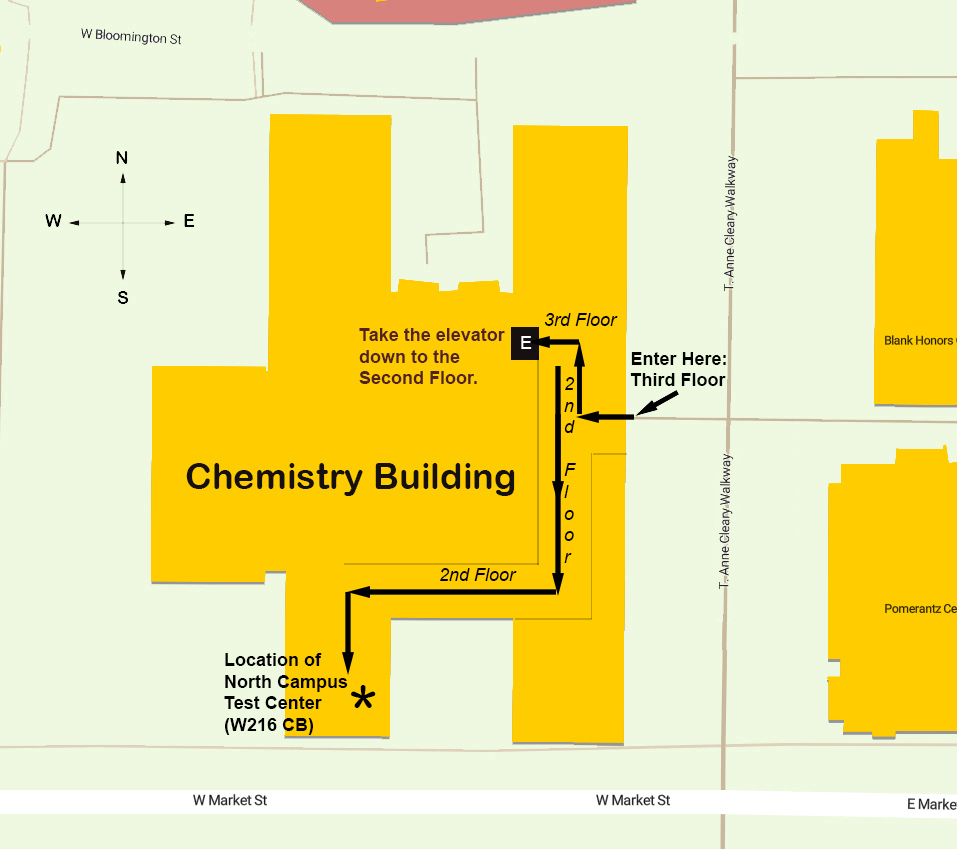 All activities in the Test Center are monitored and recorded. Use of the Test Center constitutes consent to video and audio monitoring.
Upon arrival, check in with the proctor and provide a valid photo ID. Iowa students should use their student ID. 
Only materials pre-approved by your instructor are allowed at the desk while you test. 
You will store all personal belongings in a locker or shelf before being seated. 
Phones must be turned off and stored with your personal belongings. 
No food or drink is allowed at the desks. Store any food & drinks with your belongings, where you may access it if needed. 
You may use foam ear plugs to avoid auditory disturbances. If you do not have your own foam ear plugs, the proctor can provide them to you upon request. 
No guests are allowed in the Test Center. 
The Test Center is not responsible for personal items stored during the exam. 
Examples of suspicious behavior include (but are not limited to):
having a cell phone at the testing station 
speaking or communicating to other students in any way 
looking at someone else's exam 
looking at notes, books or other materials not specifically allowed 
using electronic devices not specifically allowed 
If you feel sick, please stay home and reschedule your appointment. If you are not sure who to contact to change your appointment, call 319-467-4628 or email doe-proctor@uiowa.edu for assistance.
If you have concerns about testing in person, please contact your instructor to discuss alternate options. 
Secondary Test Center:
To be determined for Fall 2023
SDS Test Center:
Student Disability Services (SDS) Exam Services offers proctored exam support for asterisked exam accommodations, such as use of computer or other adaptive equipment for exams, in the University Capitol Centre (UCC).